With over 12 years of experience Advanced Limousine Service in Geneva or Zurich is always on time and offers service to meet any where to transfers in Swiss . VIP corporate or business Meetings or any other event you need to arrive to in style in Switzerland .
Limousine service in Geneva At your disposal , we can accompany you for few hours or several days depending on your needs. Also as part of specific missions, we can offer you to plan and organize an optimal logistics of all your transport from Geneva Airport or Zurich . All our cars with drivers in Geneva or Zurich are formally licensed, safe and fully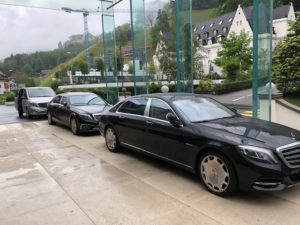 insured. Our prices are always competitive and fixed. We have a variety of modern Mercedes-Benz with driver in Geneva
including Mercedes Sprinter 16 Pax with private chauffeur in Geneva or Zurich .
1-Mercedes- Benz E-Class Business Class with driver ( Geneva Service Limousine )
2-Mercedes- Benz V-Class VAN SUV with driver ( Geneva Service Limousine )
3-Mercedes- Benz S-Class First Class with driver ( Geneva Service Limousine )
4-Mercedes- Benz MayBach Top Luxury Class with driver ( Geneva Service Limousine )
5-Mercedes- Benz Sprinter Minibus 16 Pax with driver ( Geneva Service Transfers )
All our drivers in Geneva or Zurich are friendly, well mannered, skilled and with experience. In the case of Swiss airports transfers, they will monitor your flight and operate all requests in a professional way. Surely, there will be no difficulties in communicating . As most of our drivers in Geneva or Zurich are English speaking and have high knowledge of the local area in our Geneva service Limousine or Transfers from Geneva Airport . If you travelling together with
your babies or children? Inform us, and we will make sure to provide a suitable baby, child and booster seats without any additional charge.
We are glad to offer you a luxury car with driver in Geneva disposal with the best deals Limousine Service in Switzerland. This will require just a few simple steps.For making a booking you can send us an email consisting of your private transfer details ( transfers Geneva , transfers Zurich , Service limousine in Geneva or Zurich ). Such as pick up time, destinations and duration of the desired car with driver disposal service.
Alternatively, you can create your own booking onligne ( Geneva service limousine or transfers from or to Swiss ) through our online system Pay directly online Efficient and Easy & Fast booking system . Just fill in the details in the required sections and you will be done! You will have your preferred type of the vehicle at your disposal for the whole day or for any period of time you may need. Limousine Service in Geneva or Zurich  , Transfers from Geneva , Tours or tourist guidede in Swiss . Booking a service you will ensure your safe, comfortable and smooth for Swiss Limousin Service or transfers from and to Geneva Airport or the preferred destinations throughout Switzerland and nearby countries of France, Germany, Austria, Italy and Liechtenstein.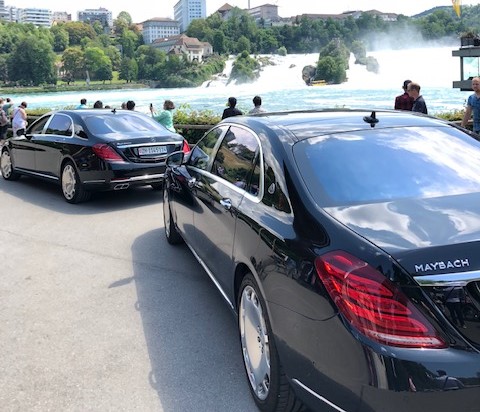 The most comfortable way to get to your exhibition Service limousine Geneva  Attendees, exhibitors, media representatives, and staff can all enjoy a quick and convenient ride to trade fairs, air shows, and sporting events with our shuttle service. The Geneva Ways Service has many years of experience and the necessary expertise to ensure that our shuttles and transfers to the world's largest events always run smoothly. (SIHH, Salon international de l'Automobile de Genève, Ebaece, Davos , Baselworld ,and all diplomat conferences in Geneva)
Geneva Ways Service provides perfectly tailored transport solutions for your event. Our service is ideal for organisers and attendees of both large public events, as well as private events, such as weddings or company events. The Geneva Ways limousine Service will support you with the planning and execution of the transport for your event – it transfers and shuttles to and from your event, trade fair, or all the transfers airports Swiss . A team of experienced event managers, coordinators, and dispatchers are on hand to help with the smooth running of your event from start to finish. You will also have a personal contact partner, who is always available to provide support.